Singer Mercedes Sosa, the most representative symbol of popular culture in Argentina and a PAHO Champion of Health, died Oct. 4 in Buenos Aires. In the Public Service Announcements that she recorded for the Pan American Health Organization (PAHO), Mercedes Sosa denounced domestic violence and called for participation in Vaccination Week in the Americas.
This is how the Clarín newspaper reported her death: "The most beloved voice in Argentina is silent. After several days in intensive care, Mercedes Sosa died at age 74. The singer was hospitalized at Sanatorio de la Trinidad, the victim of a liver problem that affects the kidneys and lungs, causing progressive renal dysfunction complicated by a cardiopulmonary condition."

One of the PSAs recorded by Mercedes Sosa as a PAHO Champion of Health

Mercedes Sosa in a PSA about Vaccination
Mercedes Sosa was born and raised in Tucumán, Argentina, beginning her performing career at the age of 15 after taking top honors in a local radio station amateur-hour competition. Mercedes is considered one of the most outstanding representatives of folk music in Latin America. Her unique style gained her immense popularity and recognition worldwide.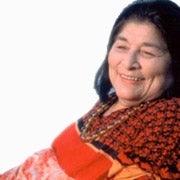 Her career was undoubtedly the most successful ever of any Argentine artist, and not only for her music, but also her message of peace, solidarity, international integration, and a steadfast belief in the importance of universally defending human rights.

During the 1960s, she became a prominent exponent of the nueva canción movement that revitalized Latin American music and heralded the emergence of music with intense social and humanitarian messages across Argentina, Chile, and other countries undergoing political turmoil.

The song "Gracias a la vida," written by Chilean poet and singer Violeta Parra, not only gave Mercedes global recognition as a musical artist, but also as a powerful activist for human rights. During the years of Argentine military rule (1976-1983), she experienced persecution and was arrested while performing onstage. Her music was banned in the country, and she went to live in Paris and Madrid. During her three-year exile, her career garnered intense international artistic exposure, and she returned home with a triumphant comeback performance in February 1982.

Mercedes Sosa performed for a variety of audiences, in popular auditoriums and prestigious intimate venues, across the Americas and in Asia and Europe. She was revered by millions as a living legend whose commanding stage presence is rivaled only by her unwavering commitment to social justice. In the fall of 2000, Sosa won a Grammy Award for Best Folk Album for "Misa criolla" at the first annual Latin Grammy Awards ceremony. She has subsequently received two other Latin Grammys, as well as countless international distinctions.

Since her designation as a PAHO Champion of Health in 2003, Mercedes Sosa joined other celebrities to launch the first PAHO Vaccination Week, a prevention campaign urging parents in Latin America to take their children to the nearest health post for vaccination.



Related sites: