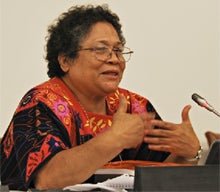 Dr. Mirna Cunningham of Nicaragua (1947 - ) is a Miskito Indian, an important political leader of indigenous peoples in the Americas. Dr. Cunningham has worked over 30 years as a teacher and doctor in hospitals and health clinics throughout Nicaragua. During her outstanding professional career, Dr. Cunningham worked at the local, national, and International levels to advocate for Human Rights, the collective rights of Indigenous Peoples, and women's health.
A renowned activist for human rights and human dignity for the indigenous peoples of Nicaragua and the Americas, she has received several international awards for her contributions. She is vice president and founding member of the Indigenous Initiative for Peace with Nobel Prize laureate Rigoberta Menchu, and member of the Board of Directors of the World Women's Fund.

Currently, Dr. Cunningham serves as president of the Center for Autonomy and Development for Indigenous Peoples, located in Bilwi, Puerto Cabezas, in the Northern Atlantic Autonomous Region (RAAN) of Nicaragua.