Mauricio de Sousa has been called the "Walt Disney of Brazil." But his mission is more than entertainment. His wildly popular "Monica" cartoons are also the perfect vehicle for conveying positive messages about health and life.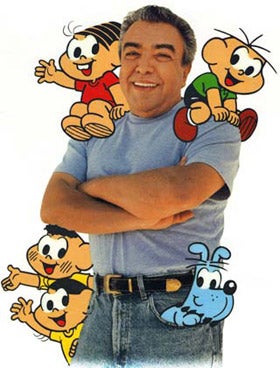 Mauricio de Sousa is Brazil's most famous and honored cartoonist, creator of the more than 200 characters that populate his popular comics, magazines and books, which have sold a record 1 billion copies.
Born in Santa Isabel, Sao Paulo, in 1935, Sousa was the son of a barber who, along with his wife, wrote poetry. Mauricio developed his interest in cartooning at a young age.
"I think the spark came with the very first comic book that fell into my hands. It had adventure stories, funny stories, colored pages. It was fascinating!" Before learning to read, little Mauricio simply tried to guess the story lines. "When I couldn't, I would get my mother to explain the mystery of the letters that filled the little balloons."
At 17, Sousa worked as a crime reporter for the daily newspaper Folha da Manhã. Five years later, he quit that job and began his comic book career. He created Turma da Mônica ("Monica's Gang"), drawing inspiration for the characters from children he knew as a child and from his own children.
The fictional Monica, inspired by his second daughter of the same name, first appeared in 1963 in a newspaper cartoon strip based on the little-boy character Cebolinha, or 'chive' in Portuguese. Monica quickly stole the scene, however, as the feisty, independent gang leader who defends her role against competing neighborhood boys. Monica's sidekicks include Jimmy Five Smudge and Maggy. Other Mauricio creations include Chuck Billy 'n Folks, a likeable bunch of country bumpkins; Tina and Pals, who live through the ups and downs of adolescence; and Horacio, an orphaned dinosaur who searches for answers to life's hardest questions.
Sousa's comics have gained international fame and have been featured on licensed merchandise as well as adapted for movies, television and video games. His comic books have been among Brazil's top 11 children's titles for the past four decades. Today they are published in 40 countries in 14 languages, including Greek and Japanese.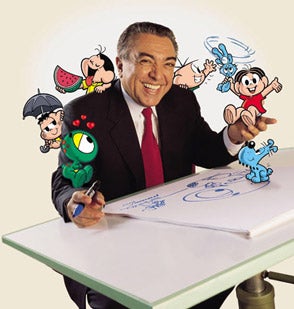 Sousa's considerable talent and entrepreneurial drive are matched by a strong social conscience. The cartoonist uses his favorite characters not only to entertain but also to teach. During the past 30 years, he has produced hundreds of "comics for a cause" on issues ranging from water and air pollution to hygiene, infant care, heart disease and smoking. For the Pan American Health Organization's annual World Health Day campaigns in 2003 and 2004, he produced special comic books on healthy environments for children and traffic safety. "Monica's Gang" appeared in a special PAHO comic book for the 2004 Vaccination Week in the Americas. Mauricio's characters have also appeared in public service announcements aired globally as part of campaigns to fight drugs, combat dengue fever, and promote healthy motherhood.
For his work communicating public health messages to children and adults, PAHO honored Sousa as a "Champion of Health of the Americas" in 2003.
Sousa's public service work has earned him both domestic and international recognition. Among the honors he has received are a Brazilian presidential medal of honor for his promotion of human rights; an honorary doctorate in public service from La Roche College of Pittsburgh, Pennsylvania; and a Lifetime Achievement Award from the Brazilian International Press Association.
Behind all this work-both for-profit and pro bono-is what Sousa describes as his "trust in the future and in people beyond all social, ideological and geographical barriers." 
"We all want to give our children a better world, give them opportunities to achieve their dreams," he says. "For this, we also have to teach them to love and respect each other."
Links of Interest