South American singer-songwriter will participate in Vaccination Week in the Americas 2011
Washington, D.C., February 23, 2010 (PAHO) - Ricardo Montaner, the South American singer-songwriter who has sold more than 25 million records, was named a Champion of Health today by the Pan American Health Organization (PAHO), for his support of vaccination initiatives in the Americas.
In accepting the honor during a ceremony at PAHO headquarters, Montaner joined a series of artists and celebrities who have been recognized by PAHO/WHO for participating in and supporting health campaigns in the Americas.
Since 2007, Montaner has been an active supporter of Vaccination Week in the Americas, a hemispheric initiative that has vaccinated more than 323 million people since 2003. The singer will participate in this year's Vaccination Week in the Americas, April 23-30, through a public service announcement and by attending a number of launching events.
In receiving his award, Montaner said that being a PAHO Champion of Health will allow him to keep being active every day, touching people's hearts. He said that traveling throughout the Americas as a participant in Vaccination Week has given him the chance to knock on the doors of entire communities, who have responded to PAHO's call to protect their families through vaccination.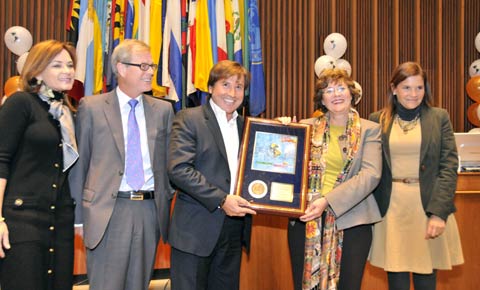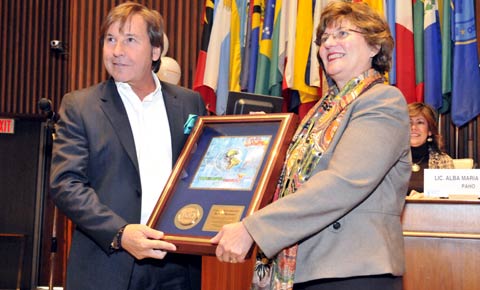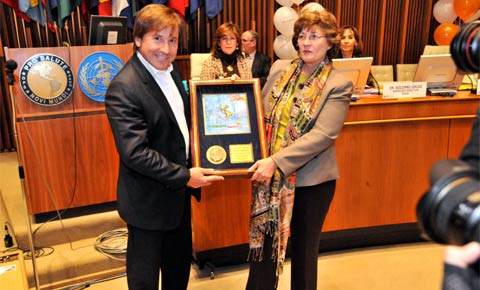 From the left: Vivian de Torrijos, former First Lady of Panama; Nils Kastberg, UNICEF; Ricardo Montaner; PAHO Director Dr. Mirta Roses; and the singer's wife Marlene de Montaner.
PAHO Director Dr. Mirta Roses, in presenting the award, praised Montaner for his support of PAHO vaccination campaigns. He is an enormous boost for the organization. On the one hand, he's inspiring, and that improves our action. On the other hand, he helps focus a lot of attention on our action. Sharing the spotlight with someone like Ricardo Montaner is invaluable. That's why it is an honor and a privilege for us that he has agreed to serve as a Champion of Health this year.

Also participating in today's ceremony was Nils Kastberg, UNICEF representative for Sudan and formerly regional UNICEF director for Latin America and the Caribbean. Kastberg praised Montaner for his work on behalf of children with special needs and congratulated PAHO for spearheading Vaccination Week in the Americas as a way to take the benefits of vaccination to populations that lack access to routine health services and that are at higher risk of preventable diseases.
In 2011, the slogan for Vaccination Week in the Americas will be Vaccinate Your Family and Protect Your Community. This year's initiative will take place simultaneously with National Infant Immunization Week in the United States, National Immunization Awareness Week in Canada, the 6th European Immunization Week, the 2nd Vaccination Week in the Eastern Mediterranean, and the first regional vaccination weeks in Africa and the Western Pacific.
In today's ceremony, Montaner concluded his remarks with an a capella rendition of Soy feliz (I'm happy) and proposed that it be the song for this year's Vaccination Week in the Americas.
In his nearly three-decade career, Ricardo Montaner has won many international awards and has also become known for his philanthropic work. His foundation, La Ventana de los Cielos (Window to the Heavens), provides free medical care to children with special needs in Rosario, Argentina, and Miami, Florida. Montaner is also a UNICEF Goodwill Ambassador.
Since launching its Champion of Health award, PAHO has collaborated with a number of outstanding personalities to promote public health through prevention campaigns, public service announcements, and video press releases, as well as interviews with government officials, policymakers, the news media, communities and the general public. Past Champions of Health include Mario Kreutzberger (aka Don Francisco), Mercedes Sosa, Jon Secada, Heather Mills, Plaza Sésamo, Jerry Rivera, José José, Mauricio de Sousa, Fernando Sendra, and the Selva Negra Foundation.