Ronaldo Assis de Moreira, better known as Ronaldinho Gaucho, is a world-renowned Brazilian soccer player. He has played for teams including Paris Saint German (France), Barcelona (Spain) and, since 2008, Inter-Milan, helping it qualify for the 2009-2010 Italian Champion League. In the process he has become one of the most important soccer players of this decade.

Born in 1980 in the Porto Alegre suburb of Vila Nova, Ronaldinho was the youngest of three children born to Miguelina, a nurse, and João, a shipyard worker and soccer player on the well-known Brazilian team Cruzeiro.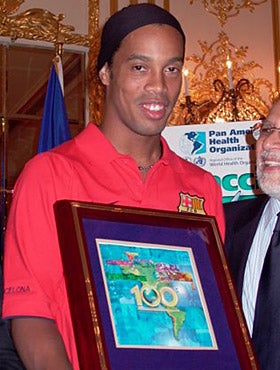 Ronaldinho's soccer skills began to blossom in childhood, as he developed a fondness for futsal (a scaled-down, mostly indoor soccer game) and beach soccer, later moving on to full-fledged "football." His first media attention came when he was only 13 after a 23-goal flurry against a local team. A few years later, Ronaldinho was identified as a rising star at the "Egypt 1997" under-17 world championship, where he scored two goals, both penalty kicks. 

Today Ronaldinho is the star player of Italy's Inter-Milan team. Among many achievements and accolades, he has been named FIFA World Player of the Year twice (2004, 2005), as well as European Footballer of the Year and FIFPro World Player of the Year (2005). 

Capitalizing on his appeal to soccer fans worldwide, Ronaldinho has worked with the Pan American Health Organization (PAHO) to produce public service announcements promoting immunization through Vaccination Week in the Americas and disseminating messages on youth violence prevention. 

Brazilian comics master Mauricio de Sousa-another PAHO Champion of Health-has also collaborated with Ronaldinho Gaucho to portray the football star's life as a child in a comic strip about the world's best soccer player and his buddies. The lively team of characters includes Ronaldinho's brother Asis, sister Daisy, No. 1 fan Diego, his mother and two lovable dogs named Champ and Fireball. Readers follow their adventures on and off the soccer field in comic strips published daily or on Sundays in newspapers throughout Latin America.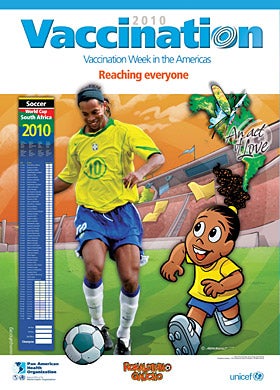 PAHO honored Ronaldinho in 2006 as a Champion of Health for his efforts to promote vaccination and reduce youth violence. 

"We are proud to have Ronaldinho in our corner in the effort to bring the benefits of vaccination to all children in the Americas so we can continue to save lives and prevent disease through strong national immunization programs," said Dr. Jon Andrus, PAHO's Deputy Director. "Although more than 90 percent of children now get routine vaccinations, there are still underserved areas we must reach and our rubella elimination campaign must completed." 

In addition to being a soccer star and public health advocate, Ronaldinho is also a huge fan of Brazilian music and occasionally plays the drums and sings with friends in Italy, where he now resides.