Ronaldo Assis de Moreira, better known as Ronaldinho Gaucho, is a world-renowned Brazilian soccer player. He has played for teams including Paris Saint German (France), Barcelona (Spain) and, since 2008, Inter-Milan, helping it qualify for the 2009-2010 Italian Champion League. In the process he has become one of the most important soccer players of this decade.

Born in 1980 in the Porto Alegre suburb of Vila Nova, Ronaldinho was the youngest of three children born to Miguelina, a nurse, and João, a shipyard worker and soccer player on the well-known Brazilian team Cruzeiro.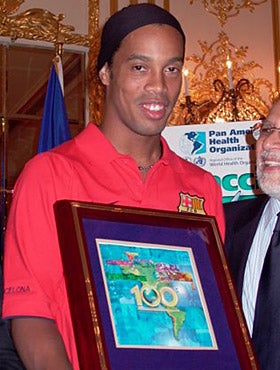 Ronaldinho's soccer skills began to blossom in childhood, as he developed a fondness for futsal (a scaled-down, mostly indoor soccer game) and beach soccer, later moving on to full-fledged "football." His first media attention came when he was only 13 after a 23-goal flurry against a local team. A few years later, Ronaldinho was identified as a rising star at the "Egypt 1997" under-17 world championship, where he scored two goals, both penalty kicks. 

Today Ronaldinho is the star player of Italy's Inter-Milan team. Among many achievements and accolades, he has been named FIFA World Player of the Year twice (2004, 2005), as well as European Footballer of the Year and FIFPro World Player of the Year (2005). 

Capitalizing on his appeal to soccer fans worldwide, Ronaldinho has worked with the Pan American Health Organization (PAHO) to produce public service announcements promoting immunization through Vaccination Week in the Americas and disseminating messages on youth violence prevention. 

Brazilian comics master Mauricio de Sousa-another PAHO Champion of Health-has also collaborated with Ronaldinho Gaucho to portray the football star's life as a child in a comic strip about the world's best soccer player and his buddies. The lively team of characters includes Ronaldinho's brother Asis, sister Daisy, No. 1 fan Diego, his mother and two lovable dogs named Champ and Fireball. Readers follow their adventures on and off the soccer field in comic strips published daily or on Sundays in newspapers throughout Latin America.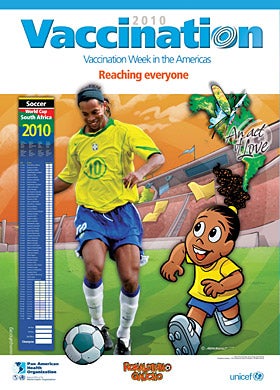 PAHO honored Ronaldinho in 2006 as a Champion of Health for his efforts to promote vaccination and reduce youth violence. 

"We are proud to have Ronaldinho in our corner in the effort to bring the benefits of vaccination to all children in the Americas so we can continue to save lives and prevent disease through strong national immunization programs," said Dr. Jon Andrus, PAHO's Deputy Director. "Although more than 90 percent of children now get routine vaccinations, there are still underserved areas we must reach and our rubella elimination campaign must completed." 

In addition to being a soccer star and public health advocate, Ronaldinho is also a huge fan of Brazilian music and occasionally plays the drums and sings with friends in Italy, where he now resides.
Ronaldo de Assis Moreira, más conocido como Ronaldinho Gaucho, es un futbolista brasileño de fama mundial. Ha jugado para muchos equipos, incluido el Paris Saint Germain (Francia), el Barcelona (España) y, desde el 2008, el Inter de Milán, donde ayudó a que este equipo se clasifique para la Liga de Campeones italiana en la temporada 2009-2010. En el proceso se ha convertido en uno de los jugadores de fútbol más importantes de este decenio.

Nacido en 1980 en Vila Nova, en las afueras de Porto Alegre, Ronaldinho fue el menor de los tres hijos que tuvieron Miguelina, una enfermera, y João, un trabajador de astilleros y jugador de fútbol en el conocido equipo brasileño Cruzeiro.
Las aptitudes futbolísticas de Ronaldinho empezaron a asomarse en su niñez, a medida que se entusiasmaba cada vez más por el fútbol sala (un partido de fútbol con menos jugadores, principalmente bajo techo) y el fútbol de playa, para pasar posteriormente al fútbol profesional. La primera vez que atrajo la atención de los medios fue cuando tenía solo 13 años, tras una goleada en la que marcó 23 tantos contra un equipo local. Unos pocos años después, Ronaldinho se destacó como una estrella en ascenso en el campeonato mundial juvenil sub-17 de Egipto en 1997, donde anotó dos goles, ambos de penal.
Hoy Ronaldinho es el jugador estrella del equipo Inter de Milán (Italia). Entre sus muchos logros y galardones, ha sido nombrado dos veces mejor jugador del mundo por la FIFA (en el 2004 y el 2005), así como mejor jugador europeo y mejor jugador del año por la Asociación Mundial de Futbolistas Profesionales (2005).

Aprovechando su poder de convocatoria de los hinchas del fútbol de todo el mundo, Ronaldinho ha trabajado con la Organización Panamericana de la Salud (OPS) para producir anuncios de servicio a la comunidad en los que se promueve la vacunación en la Semana de Vacunación en las Américas y difundir mensajes de prevención de la violencia juvenil.

El gran historietista brasileño Mauricio de Sousa —otro Campeón de la Salud de la OPS— también
ha colaborado con Ronaldinho Gaúcho para plasmar la infancia de la estrella de fútbol en una historieta acerca del mejor jugador de fútbol del mundo y sus amigos. El alegre grupo de personajes incluye a los hermanos de Ronaldinho, Assis y Deisi; el aficionado número 1, Diego; su madre y dos perros adorables llamados Bola y Bala. Los lectores siguen sus aventuras tanto dentro como fuera del campo de juego en historietas que se publican a diario o solo los domingos en periódicos de toda América Latina.

En el 2006, la OPS distinguió a Ronaldinho como Campeón de la Salud por sus esfuerzos por
promover la vacunación y reducir la violencia juvenil.

"Estamos orgullosos de que Ronaldinho juegue para nuestro equipo en la campaña para que los beneficios de la vacunación lleguen a todos los niños del continente americano, de manera de poder seguir salvando vidas y previniendo las enfermedades mediante programas nacionales de vacunación sólidos ", dijo el doctor Jon Andrus, Director Adjunto de la OPS. "Aunque más de 90% de los niños ahora reciben las vacunas ordinarias, todavía debemos llegar a algunas áreas subatendidas y completar nuestra campaña de eliminación de la rubéola."

Además de ser una estrella de fútbol y defensor de la salud pública, Ronaldinho es un gran aficionado de la música brasileña y toca ocasionalmente los tambores y canta con amigos en Italia, donde reside en la actualidad.