The Pan American Health Organization granted the 2009 Champion of Health award to Sesame Workshop, the nonprofit educational organization behind Plaza Sésamo.  Since 2003, PAHO and Sesame Workshop have been collaborating in a partnership encouraging parents and their children throughout the Americas to participate in Vaccination Week in the Americas.
Sesame Workshop, producers of Sesame Street for the last 40 years, launched Plaza Sésamo in 1972. The Spanish-language series features many of the classic Muppets of Sesame Street as well as original Latin American characters such as Abelardo Montoya, Lola, and Pancho  Contreras.  Studio segments are co-produced in Mexico by Sesame Workshop and Televisa in Mexico, while additional live-action segments are filmed throughout Latin America. Sesame Workshop's partnership with PAHO compliments their recently launched Plaza Sésamo Healthy Habits for Life initiative, which encourages children in Latin America to exercise, eat healthy foods and develop healthy habits that are simple and fun and can be practiced forever.  

Abelardo, Lola, Pancho, and other Plaza Sésamo characters have been featured in PAHO Public Service Announcements (PSAs), posters, flyers and stickers in PAHO's four official languages (English, Spanish, Portuguese and French).  These characters have broad appeal throughout Latin America and the Caribbean, where Sesame Street and Plaza Sésamo are widely viewed. Since partnering with Sesame Workshop in 2003, messages about vaccination week have reached over 147 million children and adults. 

Sesame Workshop's Plaza Sésamo is available throughout Latin America on Discovery Kids, as well as on select terrestrial broadcasters throughout the Americas. Sesame Workshop's programming can be seen in more than 140 countries worldwide.  The organization works with local directors, producers, writers, and child-development experts to produce content that is engaging, enriching, and culturally relevant in different countries of the world.

Links of interest
Videos:
Photo Gallery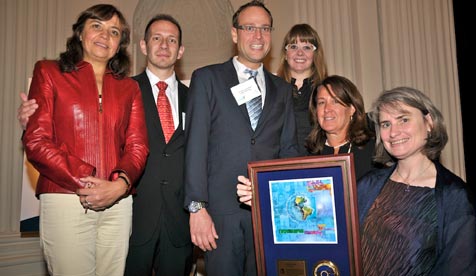 From the left: Gema Jara, Education Specialist, Plaza Sesamo, Televisa; Javier Williams, Executive-Producer, Plaza Sesamo, Televisa; Daniel Labin, Project Director, Sesame Workshop; Marie-Cecile Girard, Project Director, Plaza Sesamo, Sesame Workshop; Ginger Brown, Executive Producer, Plaza Sesamo, Sesame Workshop; and Dr. Charlotte Cole, Vice-President, International Research, Sesame Workshop. (Photo by Harold Ruiz - PAHO/WHO)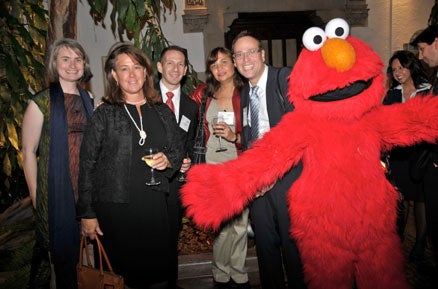 Elmo and the Sesame Workshop team at the award ceremony.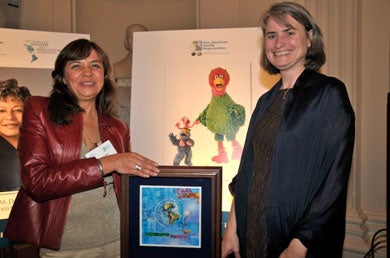 Gema Jara, Plaza Sesamo (on the left) and Dr. Charlotte Cole, Sesame Workshop.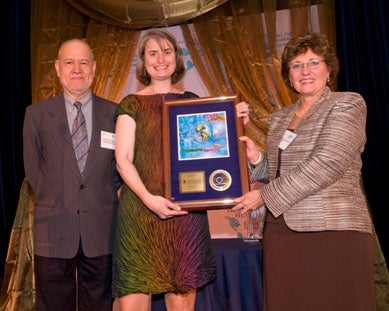 Dr. Abel Caballero, PAHEF, Dr. Charlotte Cole, Sesame Workshop and PAHO Director Dr. Mirta Roses.