Feb. 15 is the deadline for submitting applications. The nine-month program provides virtual learning and other activities for selected candidates in their home countries
Washington, DC, 27 January 2017 (PAHO/WHO)-Professionals with managerial or executive experience in public health, international relations or related areas are invited to apply to participate in the 2017 Edmundo Granda Ugalde Leaders in International Health Program (LIHP) of the Pan American Health Organization/World Health Organization (PAHO/WHO).The application deadline is 15 February 2017.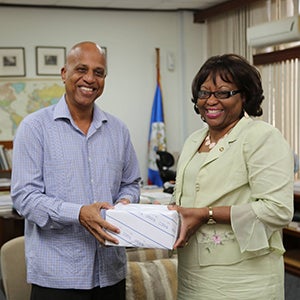 In almost a decade, more than 350 professionals have received leadership training through the PAHO/WHO Leaders in International Health program. The 2017 session will start at the beginning of April and last nine months. Selected candidates will participate in online learning activities in coordination with the PAHO/WHO office in their home countries while remaining at their respective institutions. Participants will also have the opportunity to meet physically with one another and with the LIHP academic team. They will be expected to complete a final project that is related to a priority area of health work in their country, subregion or region, and that can be developed in coordination with PAHO/WHO, national health authorities or other agencies. The program, which is free of charge for the participants, accommodates a limited number.
International health leadership and global health diplomacy are key areas of public health action in today's globalized world and are critical for advancing international initiatives such as the Sustainable Development Goals (SDGs), the Health Agenda for the Americas 2008-2017, and PAHO's regional Strategy for Universal Access to Health and Universal Health Coverage, all of which require cross-sector action and knowledge of treaties and bilateral and multilateral accords.
The PAHO/WHO Leaders in International Health program seeks to develop health professionals who are knowledgeable about the impact of international developments on health and who can identify, analyze, and advocate effectively for public health issues in their countries within the complex global context.
Subjects that will be covered in the 2017 LIHP session include health diplomacy, international cooperation, universal health, sustainable development, migration, workers' health, situations of tension and conflict, climate change and noncommunicable diseases.
After completing the program, participants will have gained knowledge and skills in areas including situation analysis, policy- and decision-making, negotiation and advocacy, project management, information production and exchange, and communication.
For more information on the application and the program:
- http://www.paho.org/leaders-international-health