Paquita Medina, Ecuador
Durán, Ecuador, September 2017 (PAHO/WHO) - Paquita Medina sells tortillas to make a living – but not just any tortillas. The ones Paquita makes are prepared without fat, meaning a healthier choice is available for the people in Paquita´s community.
Paquita is one of more than 35 street vendors who have stopped selling super-processed foods outside of nine schools in the El Recreo I and II neighborhoods in Durán, a vulnerable area outside of Guayaquil, Ecuador. Now, instead of selling snacks and sodas, she sells fresh juices, fruit, and tortillas made without saturated oil.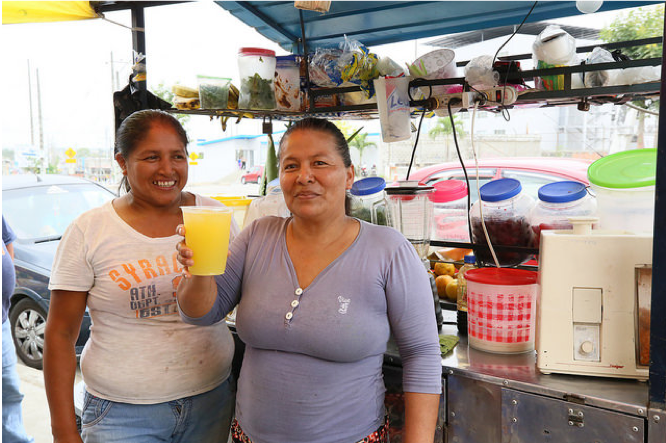 "I used to sell fried snacks, tortillas fried in oil, and bottled juices, but not anymore," says Paquita. The change "benefits the whole community, because everyone passes by here," she notes, pointing to Main Street where she has her stand set up in front of the Imbabura Province School and Recreo II Health Center.
The way Paquita prepares and sells her products has changed since she and the other street vendors were trained by the Ecuadoran Ministry of Public Health, the National Regulation, Control, and Sanitary Surveillance Agency (ARCSA), the Pan American Health Organization (PAHO), the Ministry of Education, and the Autonomous Government of Decentralized Duran, in the framework of the "Strengthening Primary Health Care" project financed by the Korea International Cooperation Agency (KOICA).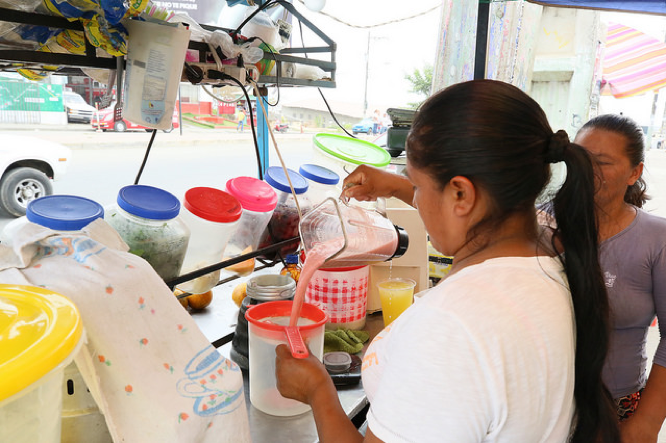 The initiative has had a greater reach than planned, as it has resulted in the formation of the Association of Health-Promoting Food Vendors. Paquita is one of the 13 members of the association, which hopes to continue growing and impacting the health of the population in El Recreo.
Along with the vendors, the students from the nine schools in El Recreo I and II, as well as parents, teachers, health professionals, and workers in the area, can now choose healthier food, which will help prevent overweight and obesity, two risk factors for non-communicable diseases
Paquita has been a street vendor for more than 10 years. While she sells tortillas, her colleague Elena Daquilema prepares a smoothie for a client. "We complement each other. We don´t offer the exact same things, so both of us make sales," she says. "The fresh juices sell more," she adds, noting that the switch to healthier foods has not hurt sales.
TThe project did a census around the schools to identify street vendors for the trainings. They held a series of meetings and training workshops that covered handling food, healthy eating, nutrition, diabetes, and other topics. "We learned there that we had to start doing things differently if we wanted to take care of our health," says Paquita.
The group of vendors that Paquita and Elena belong to embraced the initiative and invented their own slogan: "Vendors of healthy foods, promoting life." The phrase shows that each individual person has an important role to play to protect and promote health in their community.