Cuban-born Jon Secada came to the United States with his family at the age of 9, and the Secadas established a coffee shop in Miami Beach. By the age of 14, Jon knew that his life would focus on music. He later enrolled at the University of Miami, where he developed his considerable skills as a songwriter. He completed a bachelor degree in music and then earned a master's degree in Jazz Vocal Performance. In 1990, he met Emilio Estefan, who gave Jon the opportunity to work as a backup singer for Gloria Estefan and to cowrite several songs. "Coming Out of the Dark" was a number-one single in 1991 and sold millions of copies worldwide.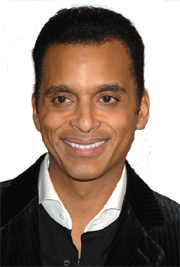 In 1992, Jon launched a solo career. Songs such as "Just Another Day," "Angel," "I'm Free," "Do You Believe in Us?" and "Otro día más sin verte," the title song of his debut Spanish-language album, have become worldwide classics in the Billboard and Grammy charts. He has earned three Grammy Awards, becoming one of the top Latin vocalists and songwriters to make a successful crossover in the United States.

In addition to his music, Jon has devoted himself to assisting charitable organizations and advocating for community service projects. He has performed at fund-raising concerts for HIV/AIDS-related organizations and also for UNICEF. His commitment to HIV-AIDS research, as well as helping children, with a focus on education and child abuse prevention, led him to create the Jon Secada Music Scholarship at the University of Miami. His song "The Last Goodbye" is a tribute dedicated to the families of the victims of the 11 September 2001 terrorist attacks in New York City. This song, including an all-star version in Spanish with the participation of more than 100 Hispanic artists from around the globe, was released as a single, with all proceeds going to the victims' families.

Jon Secada was appointed a PAHO Champion of Health in 2002. He has helped the Organization raise awareness about teen pregnancy through a prevention campaign reaching all of Latin America, where Jon has promoted one powerful message: "Each moment in our lives presents challenges, achievements, and happiness. Teen pregnancy shatters this harmony. Protect yourself!"