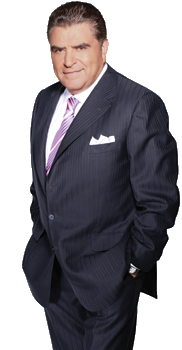 Mario Kreutzberger (Chile, 1940) better known as "Don Francisco", is the most charismatic and popular international presenter on television in the Americas. With more than six decades of career in the entertainment world, he was the creator and host of "Sábado Gigante, the variety show in Spanish that aired throughout the region weekly from the United States. Seen by some 100 million people in 42 countries, "Sábado Gigante" was the longest-running entertainment program, reaching more than 90% of Spanish-speaking families in the United States every Saturday for 50 years. "Sábado Gigante" ended its broadcast on September 9, 2015.
During his long artistic career, "Don Francisco" has combined philanthropy with entertainment. Since 1978, he was the architect in creating the annual charity telethon in Chile for children with disabilities, raising more than US $ 160 million, money that helped finance the construction of six rehabilitation hospitals in his country. Telemarathons attract a vast audience and have contributed to increasing respect for people with disabilities and raising awareness about their rights, both in Chile and throughout the countries in the Americas.
Since 2002, Mr. Kreutzberger has collaborated with PAHO in producing regional media campaigns aimed at promoting key public health messages. Their collaboration has been decisive in raising awareness at the regional level about blood donation, the importance of vaccination in families, healthy eating and physical activity, the importance of prenatal care, mental health, and the prevention of drugs abuse and alcohol.
In 2010, PAHO counted on his collaboration to launch an important regional campaign called: "To eat healthy, to live well and to move America!", promoting key messages on physical activity and the prevention of obesity.
In 2005, PAHO awarded Don Francisco the distinction of "Champion of Health" for his outstanding philanthropic work and his valuable contributions to improving the quality of life of the inhabitants of our region. Mario Kreutzberger is considered one of the most popular communicators in our America and without a doubt, an effective spokesperson for promoting public health in our region.