The life of Dr. María Isabel Rodríguez, born in El Salvador in 1922, has been marked by her commitment to education and science. Her tireless struggle for the right to health, and for equity, women's rights, and justice have forged an imprint, making her a Public Health Hero of the Americas, the highest distinction granted by the Pan American Health Organization/World Health Organization (PAHO/WHO). Dr. Rodríguez received this recognition from PAHO/WHO Director Carissa F. Etienne, during a special event held on 28 September 2015.
Until a little over a year ago, Dr. Rodríguez was Minister of Health of El Salvador, the first woman to hold that position in her country. Currently, she acts as Presidential Advisor on Health and Education, working to achieve universal health coverage and high-quality, inclusive, and equitable education in El Salvador.
She is considered a pioneering researcher and educator in the field of cardiovascular physiology and, in the course of her 93 years, has promoted major reforms in medical education. Currently, she is leading the transformation of her country's health sector toward a universal, equitable, and high-quality integrated health system, based on human rights and a primary health care strategy.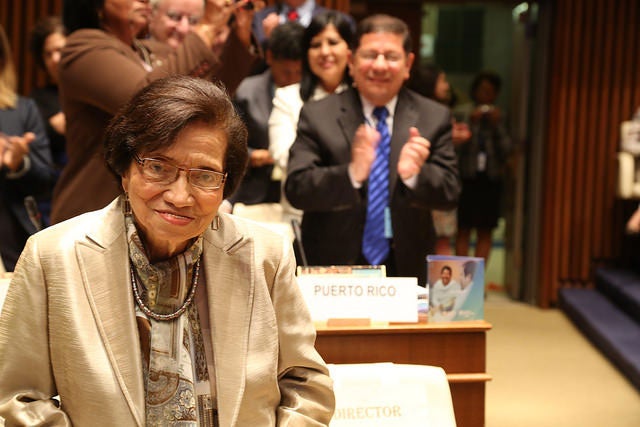 Dr. Rodríguez was part of the Pan American Health Organization for over 20 years (1972—1994), working in Mexico, Venezuela, and the Dominican Republic, where she headed the Representative Office. She helped develop teaching and research centers and cooperated actively in the creation of pioneer programs in health and social sciences, and in a broad analysis of health worker training and the development of new educational approaches in response to the Declaration of Alma-Ata on Primary Health Care.
At PAHO Headquarters, she coordinated pioneer programs for the country offices aimed at improving and strengthening the quality and conditions of technical cooperation among countries. In 1985 she launched the International Health Training Program to help educate leaders, offering a broad overview of regional and global health trends.
Dr. Rodríguez was the first female Rector of the University of El Salvador. Her prolific teaching activity and scientific research includes over one hundred publications that attest to her contributions in the fields of biomedicine, medical education, international health, primary health care, and university policy.
Over the span of her life she has received countless distinctions from institutions, organizations, and governments. At least 12 universities in the Region of the Americas have named her Doctor honoris causa, and she has received academic recognition of different kinds for her contributions to medicine, public health, and the struggle for women's rights.
Public Health Hero of the Americas is the highest distinction awarded by PAHO/WHO. First granted during the celebration of the Organization's centennial in 2002, the award honors individuals who have made extraordinary contributions to improving the health and well-being of the people of the Americas.
Over the past 13 years, PAHO has recognized a select group of little-known men and women who toil daily, throughout their lives, for the health and well-being of the people of the Americas.