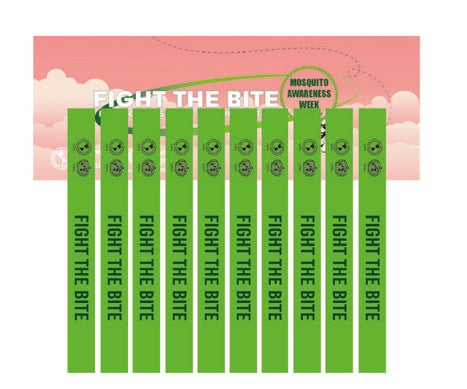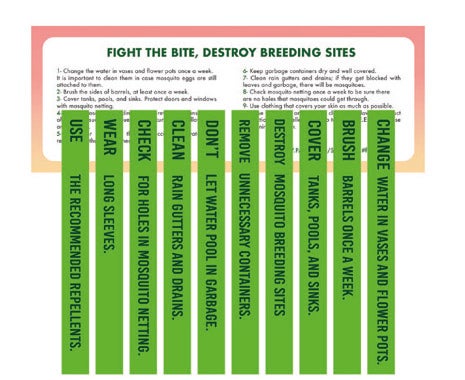 *Card (front & back design) and render.

There are ten wooden clothespins, 9,5 x 1 cm, painted in light green color with dark green color fonts to prevent banish. This ten are attached to a card of 14 x 5 cm and 300/350 gr of thickness. Also, it can be print in a fridge magnet; in that case, Pantone Uncoated colors samples are specified for this purpose.
This card is double-faced (A y B), by one side is the slogan as is it used in the banner web, and by the other side are the key messages, the campaign hashtag, and the website link.
The clothespins idea is to give short messages, like reminders, and the complete messages are in the card in where they are attached; just to remind the person to prevent when he/she is hanging the clothes.
By one side (A) it is the call to action of the slogan: "Fight the Bite" and the PAHO isotypes in black, and by the other side there is one of this reminders.
Reminders order:
Change water in vases and flower pots // Brush barrels once a week // Cover tanks, pools, and sinks // Destroy mosquito breeding sites // Remove unnecessary containers // Don't let water pool in garbage // Clean rain gutters and drains // Check for holes in mosquito netting // Wear long sleeves // Use the recommended repellents