Port of Spain, 8 June 2016 (PAHO/WHO)- The Director of the Pan American Health Organization, Carissa F. Etienne visited Trinidad and Tobago 6-8 June 2016. Dr. Etienne met with the Minister of Health, the Honourable Terrence Deyalsingh, along with other Ministry executives today at the Ministry of Health's Head office to discuss the continued partnership of PAHO/WHO and the government of Trinidad and Tobago in tackling the health challenges confronting the people of Trinidad and Tobago and the Region.

The Minister appraised the Director of the main health challenges which are being given priority namely: Antimicrobial resistance, maternal and child health care, access to and provision of vital medicines by the ministry; addressing non-communicable diseases, and creating centres of excellence for provision of care. Dr Etienne assured the Minister that "PAHO will continue to provide unwavering support to the government of Trinidad and Tobago and to national development".
During her visit, Dr. Etienne also met with Dr. James Hospedales, Director of the Caribbean Public Health Agency (CARPHA), based in Trinidad and Tobago.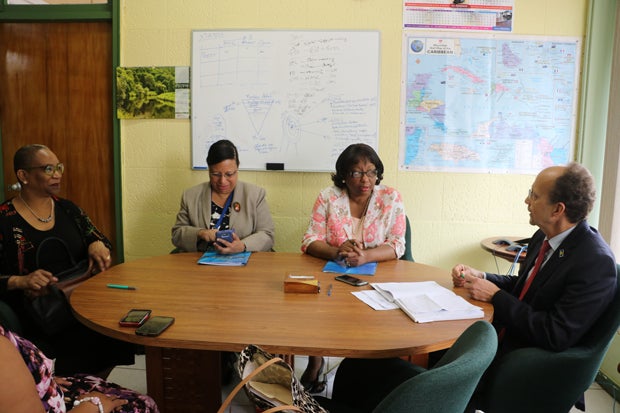 Dr. Carissa F. Etienne (Director PAHO) wrapped up her official visit to Trinidad to Tobago with a visit to Barataria Health Centre of the North West Regional Health Authority and the Mt. Hope Women's Hospital (MHWH). At the Health centre she was apprised of all the services provided to the community and the strides being made in providing quality health care. At the MHWH she interacted and engaged the leadership and the staff of the North Central Regional Health Authority and learnt of their progress in Primary Health Care and Maternal Health, among other sterling contributions to the health and well-being to the people of Trinidad and Tobago
The Director congratulated Dr Karen Sohan, Medical Chief of Staff and her team on their energy and dedication, and the innovation demonstrated to address the systematic issues regarding maternal and child health care. Dr. Etienne challenged to them to replicate their strategy not only nationally, but further afield.
PAHO/WHO continues to support the Government of Trinidad and Tobago in the area of Maternal and Child health care offering training on high-risk obstetric sonography, and more recently, trained obstetricians and midwives to detect and manage Postpartum Haemorrhage. This training was conducted by PAHO/CLAP in April 2016, and in May 2016 doctors at the Port of Spain General Hospital saved a patient's life using their newly acquired skills.
"PAHO/WHO will continue its technical support to the Government of Trinidad and Tobago and its agents, and all stakeholders whose interests align to serve and provide the best quality health care to the people of Trinidad and Tobago", affirmed Dr. Etienne.