NCDs and COVID-19: Building Back Better Services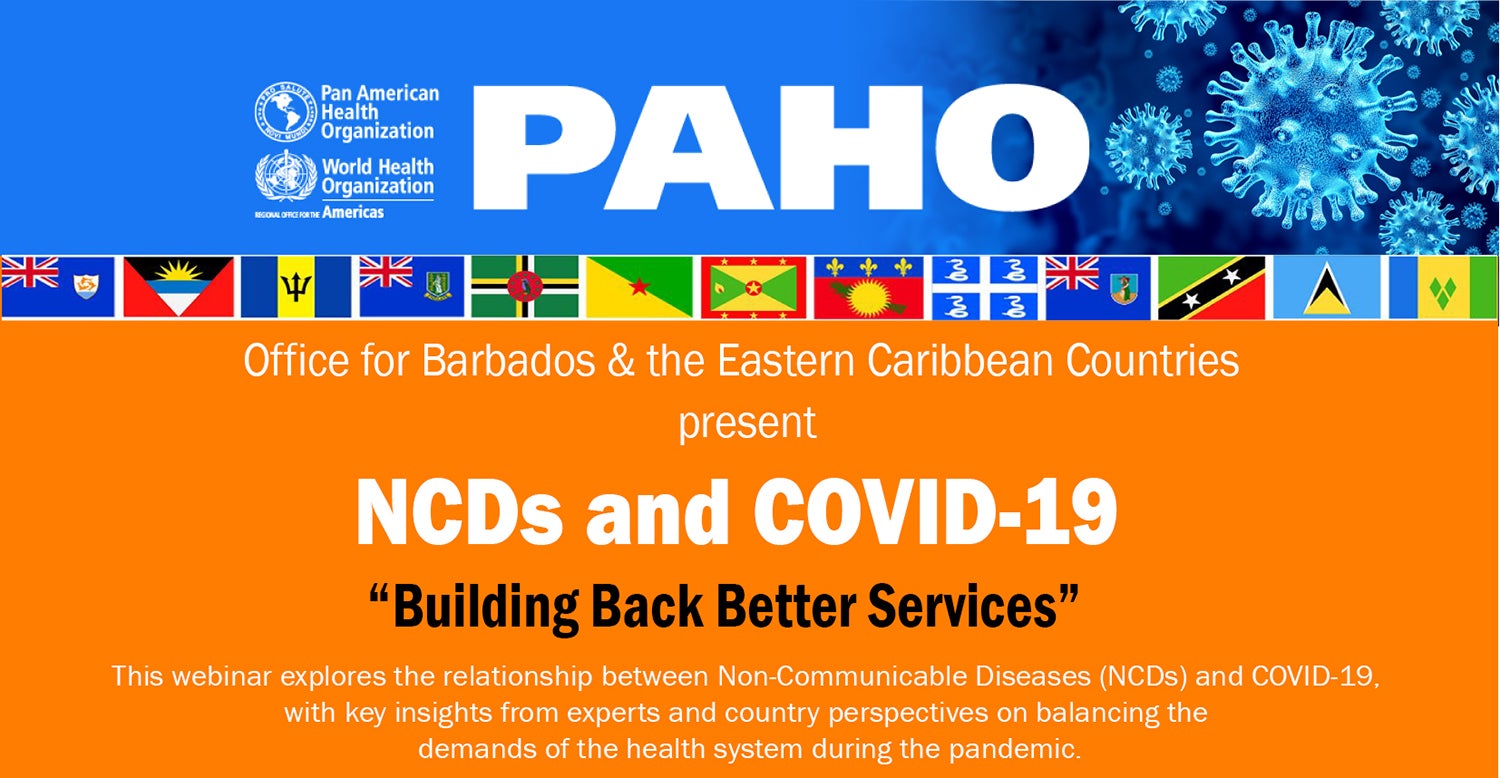 This webinar explores the relationship between Non-Communicable Diseases (NCDs) and COVID-19, with key insights from experts and country perspectives on balancing the demands of the health system during the pandemic.
It will bring together participants from Barbados and the Eastern Caribbean Countries. The participants will be representatives from Ministries of Health, Agriculture, Education, Commerce, Transport; Planning Units; Non- Governmental Organizations; Regional and International Organizations; Academia; Trade Unions; Private Sector; Media; Youth Representatives and Persons Living with Noncommunicable Diseases (PLWNCD).
What:     NCDs and COVID-19: Building Back Better Services
Date:      Tuesday 7 July 2020
Time:      2:00pm
How:       To join the webinar, use the following link to register https://bit.ly/2VGqwSA
Agenda and speakers:
Welcome and Introductory remarks – Dr Yitades Gebre, PAHO/WHO Representative
Remarks – Honourable Molwyn Joseph, Minister of Health, Antigua and Barbuda
Feature Address – Sir George Alleyne, Director Emeritus of PAHO/WHO
Results of NCD service delivery and COVID-19 surveys - Dr Anselm Hennis, Director of NMH, PAHO/WHO
Impact of COVID-19 on service delivery - Ms Trudy Griffith, President of the Diabetes Association, Barbados
COVID-19 and Cancer      
St Lucia HEARTS -  Dr Sharon Belmar-George, Chief Medical Officer, Ministry of Health, St Lucia
Recommended modifications for safe and effective delivery of services - Dr Anselm Hennis, Director of NMH, PAHO/WHO