Washington, D.C., September 13, 2017 (PAHO/WHO) - Countries in the Americas are working to control mosquitos and raise awareness of the diseases they transmit as part of the Pan American Health Organization's (PAHO) Mosquito Awareness Week efforts.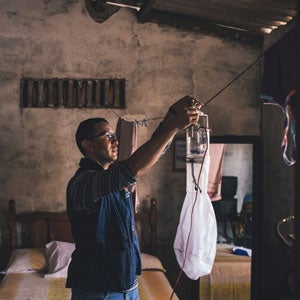 The focus is to provide information and promote community participation in eliminating breeding sites of the Aedes aegypti mosquito, which transmits dengue, chikungunya, Zika, and yellow fever. Each country organizes its own activities at national and local levels.
A goal for the 2017 campaign is to raise doctors and health workers' awareness of their role as health providers and disseminators of information, encouraging them to communicate with patients about personal protection measures and how to eliminate mosquito breeding sites.
Dr. Marcos Espinal, Director of PAHO's Department of Communicable Diseases and Health Analysis, said "Controlling mosquitoes is crucial because the diseases they transmit can be fatal or debilitating, and represent a large burden for country health systems."
He noted that the Member States of PAHO have approved a new integrated strategy to control arboviral diseases, including Zika, dengue, chikungunya and yellow fever.
Mosquito Awareness Week started in 2016, in the context of the health emergency caused by the Zika virus outbreak that had spread to 48 countries and territories in the Americas. Campaigns focused on mosquito elimination and personal protective measures against mosquito bites, especially for pregnant women. Some 27 countries held campaigns.
The campaign, which is being partly financed with funds from the US Agency for International Development, is part of an effort to combat the rising scourge of vector-borne disease in the Americas. It includes technical components as well as communication activities by ministries of health.
The Caribbean countries celebrated Mosquito Awareness Week using the slogan, "Small bite, big threat. Fight the bite, destroy mosquito breeding sites." Latin American countries unfolded their own initiatives from August to December, using "Contra los mosquitos, tus palabras cuentan" ("In the fight against mosquitos, your words lead to action") to raise health care workers awareness.
El Salvador and Panama already began mosquito awareness campaigns, and Chile plans activities starting September 15th.
The initiatives involve civic groups, grassroots organizations, local and national health authorities, the private sector, and other agencies that have joined forces to combat vector-borne diseases. Activities include launch events, workshops, forums, and school and community actions against breeding sites for mosquitos.
This strategy recommends closer coordination between the health sector and communities and families, promoting active participation and access to information so they can take a more active role in preventing and controlling these mosquito-borne diseases.