On World Hypertension Day, PAHO reminds people of the importance of keeping blood pressure under control and below 140/90
Washington, DC, May 17, 2017 (PAHO / WHO) - Four countries in the Americas have successfully implemented interventions to reduce patients' cardiovascular risk, which consist of providing comprehensive care and follow-up for those suffering from hypertension. The initial results show an improvement in the percentage of patients who keep their blood pressure under control in the clinics where this program was applied.
The initiative was launched in Barbados, Chile, Colombia and Cuba with the support of the Pan American Health Organization / World Health Organization (PAHO / WHO) and the US Centers for Disease Control and Prevention.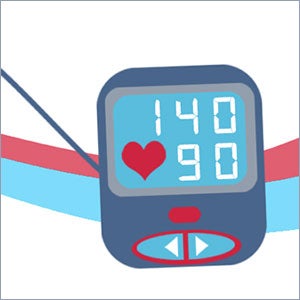 In the context of World Hypertension Day, delegations from several countries of the Americas discussed the initiative at a seminar in Santiago, Chile May 16-18, convened by PAHO / WHO in collaboration with the Ministry of Health of Chile.
Between 20% and 35% of the adult population in Latin America and the Caribbean has hypertension. The number of people with high blood pressure has been increasing in recent years and many are unaware that they have this condition. A study published in the Journal of the American Medical Association in 2013 showed that in four countries of South America (Argentina, Chile, Colombia and Brazil), only 57.1% of adults who had high blood pressure knew that they have hypertension. This lack of knowledge contributes to a low level of blood pressure control in the population: Only 18.8% of hypertensive patients in these four countries keep their blood pressure controlled.
High blood pressure is the leading risk factor for illness and premature death from a cardiovascular event, and is the second leading cause of disability in the world. It is also the main cause of ischemic heart disease and stroke.
"The initiative that has been implemented in all four countries involves transforming the way of working in primary care units, so that those who do not know they have hypertension receive adequate diagnosis and treatment and those in treatment keep their blood pressure below 140/90," said Anselm Hennis, director of PAHO's Department of Noncommunicable Diseases and Mental Health.
"With the experience of four countries we have learned that it is essential to simplify care processes, to include all members of the health team and to ensure that the intervention is sustainable," he added.
These programs to reduce cardiovascular risk by controlling hypertension have five basic elements: a standardized treatment algorithm, a core group of drugs whose effectiveness is based on evidence, a clinical record for follow-up of patients, an evaluation of the performance according to established indicators, and the reorganization of the tasks and functions among the different members of the health team.
This includes not only medical and nursing staff, but also health promoters, nutritionists and pharmacy staff. In addition, patients receive guidance to change their lifestyles, such as incorporating physical activity, healthy eating, reducing salt consumption and not using tobacco.
Barbados was the first country in the region to implement this model through the CDC-led Project for Standardization of Hypertension Treatment.
Chile, Colombia and Cuba joined the initiative to reduce cardiovascular risk in clinics selected as demonstration centers. They are already seeing favorable results, with control rates among treated patients varying between 55% and 83%. The goal is to extend this experience to more clinics where the initiative has been implemented, and eventually add other countries in the region.
The Region of the Americas has adopted a commitment to ensure that by 2019 at least 35% of people with hypertension have blood pressure under control to avoid millions of deaths from cardiovascular disorders.