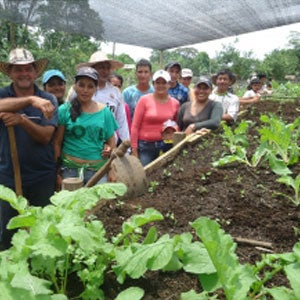 FAO and PAHO have invited countries from across the region to present exemplary experiences that allowed a change in the way that food is produced, marketed, and consumed.
September 6, 2017, El Salvador - Transforming food systems will be key to the strategy that is needed to end hunger and all forms of malnutrition in Latin America and the Caribbean, FAO and PAHO indicated today.
Both agencies have convened governmental authorities from the region along with international experts in a seminar in El Salvador to share public policies and successful experiences that contribute to the creation of food systems that promote healthy eating.
According to FAO and PAHO, in the last decades, the food systems in the region - the collection of stakeholders and rules that determine how food is produced, marketed, distributed, processed, and consumed, from farm to table - has undergone profound changes.
"We have experienced a radical and Swift process: what Europe accomplished in one hundred and fifty years we have done in thirty", remarked the Regional Representative of FAO, Julio Berdegué.
Economic, demographic, technological, and cultural changes have had a profound impact on the food that the people eat and the way in which these are produced, transformed, marketed, distributed, and consumed.
This transformation has made the region a food powerhouse and has had many positive effects in terms of people´s wellbeing: it has been key in reducing poverty in many countries and it has allowed millions of women to join the work force.
However, there have also been negative effects. Latin America registers a sale regarding ultra-processed products of 129 kg per capita and year, and a considerable increase in the consumption of ultra-processed foods or with high sugar, salt, and fat content, factors that explain the explosive increase in obesity in the majority of the countries in the region.
"The problem is that this change has occurred without sufficient and efficient public policies, guided only by the rules of the market. Today we have to re-govern our food systems to assure that we improve the health of our population," explained Berdegué.
In this regard, Dr. Carlos Garzón, Representative of PAHO in El Salvador, emphasized the need to, "establish fiscal policies, regulate the publicity of food directed towards children and the frontal labeling of nutritional warnings that allow people to make informed decisions about what they eat."
Prior to the regional seminar in El Salvador, national consultations were made in twelve countries of the region to gather their best experiences to be presented the international community.
It is cheaper to eat poorly than it is to eat healthy
"The Achilles´ heel of food security is access to food. The problem is not the lack of food, but rather that many people do not possess the resources to acquire them," Berdegué explained.
In many countries of the region it is cheaper to eat poorly than it is to eat healthy, an aspect that most greatly affects the poor, who spend a large part of their income on food. For each calorie consumed, ultra-processed products are generally cheaper than fresh and nutritious foods.
The above is combined with the fact that, in the last years, the reduction of poverty has become stagnant in the region, for which the sectors of the population that live in conditions of poverty or social vulnerability have to face more pressure that put their food security at risk.
Changing the food system is up to all of us
According to FAO and PAHO, transforming food systems to make them sustainable, fair, inclusive, and nutrition-sensitive requires the participation of everyone.
Political leaders and public policy-makers are especially responsible, but agrifood sector also plays an important role. Their decisions determine, in a fundamental sense, the form and function of the food systems, for which FAO and PAHO call food and agriculture businesses to commit to becoming part of the solution to malnutrition that affects an increasingly growing number of Latin American and Caribbean people.
The consumers, through their organizations, have played and should play an active role in denouncing the misrepresentations of the food systems, and in the promotion of strategies and policies to correct them. The farmers, for their part, have to produce healthier and safer foods.
Comprehensive strategies are required
According to FAO and PAHO, the strategies for the construction of healthy food systems should be comprehensive and include actions aimed at incorporating a vision of health and nutrition in all the facets of food systems.
This approach should inform the national and international production and trade of foods, transport, industrial processing, distribution, sales, and consumption as well, which can be improved through the regulation of advertising and sales of unhealthy food.
Likewise, social policies are needed to assure that all homes in conditions of poverty or social vulnerability have stable and daily access to a healthy food basket.
Many of these policies should pay special attention to certain social groups, whose malnutrition indicators are worse than the average, including indigenous peoples, children, and women.
Finally, FAO and PAHO called countries to improve their monitoring and research systems on the relations between food systems and malnutrition in order to make cost-efficient and focused investments and provide better solutions to the aforementioned problems.
More information
- Latin America and the Caribbean Regional Symposium on sustainable food systems for healthy eating, 5-7 September 2017
Contactos de prensa FAO
Benjamín Labatut
Santiago, Chile
tel: (+56) 229 232 174
e-mail: benjamin.labatut@fao.org
Marta Ramón
Santiago, Chile
tel: (+56) 229 232 252
e-mail: marta.ramon@fao.org

Contactos de prensa OPS
Leticia Linn
Tel. + 1 202 974 3440/ Móvil: +1 202 701 4005
e-mail: linnl@paho.org;

Sebastián Oliel
Tel: +1 202 974 3459
Móvil: +1 202 316 5679
E-mail: oliels@paho.org