Port-au-Prince- To meet the enormous health challenges posed by the January 12 earthquake, Haitian authorities, United Nations agencies and donor countries have been providing tons of medicines to scores of health partners on a daily basis through a large-scale coordinated effort run out of the country's pharmaceuticals hub in the capital, Port-au-Prince.
From 16-21 January alone, 483,091 kg of pharmaceutical supplies and 4,990 kg of non-pharmaceutical health supplies, like rubber gloves and masks, arrived at Port-au-Prince airport.
Organizing these donations through Haiti's central pharmaceutical store, known as PROMESS (Program on Essential Medicine and Supplies), is one of the least visible but more vital tasks for humanitarian workers following the earthquake.
"Without PROMESS we would have had a second catastrophe," Dr. Alex Larsen, Haitian Minister of Health, said at the PROMESS warehouse.
Operations for the World Health Organization (WHO)/Pan American Health Organization (PAHO) country office were run out of PROMESS and in days following the quake. When roads were blocked with rubble, WHO/PAHO staff went on foot carrying drugs from PROMESS to deliver them to UN and nongovernmental organization partners working in health.
As the humanitarian operation intensified, more and more shipments of medical supplies started arriving at Port-au-Prince airport, located close to PROMESS. To meet the increased logistical challenges, WHO/PAHO is running a programme to coordinate all donations from many governments, including the United States, into a single system to ensure medicines are delivered as quickly as possible to where they are needed.
"Trying to both respond to the massive health needs in Haiti following the quake and organize the large volume of supplies entering the country has been a great challenge," according to WHO/PAHO representative in Haiti, Dr Henriette Chamouillet. "Many partners, including the United States government who we are with today, have been extremely generous in their response to the great humanitarian health needs of the Haitian people."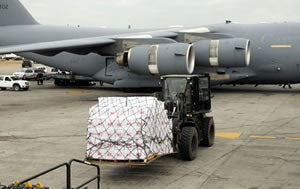 PROMESS has long been supplying medicines and related supplies to health facilities throughout Haiti. Following the quake, PROMESS was virtually the only source of drugs and medical supplies in the country, and there was a dramatic increase in demand from established health facilities and from temporary field hospitals that had mobilized to support the relief effort.
But as medical donations began streaming into Haiti, so did the need to streamline the truckloads of material arriving daily at PROMESS, and to distribute it to where it was needed most. The U.S. Government has provided professional support in the form of pharmacists and medical logisticians, working with WHO/PAHO in receiving goods, sorting them, checking expiry dates and getting them onto the shelves; security to ensure that fuel reaches hospitals to run electricity generators, and security of the compound so that PROMESS can continue to provide an essential function; engineering support such as clearing rubble and leveling land for incoming containers of medical supplies; and logistical support for getting drugs to hospitals that are difficult to reach.
"We are working in concert with Haitians, other donors, groups and the Pan American Health Organization to plan and support health system requirements, including health and medical supplies," said Judith Timyan, USAID Health Team Leader. "We are not only expediting the distribution of medicines and equipment for clinics and hospitals, but also building local Haitian capacity to effectively manage the supply chain for the health system in the future."
As PROMESS becomes more effectively organized to respond to these new challenges, the Haitian government, WHO/PAHO and USAID have been visiting organizations, hospitals and clinics throughout Haiti to assess medicine shortages and link the facilities to the PROMESS warehouse.
"We appreciate what everyone around the world is doing," said a worker in the PROMESS warehouse, LCDR Fortin Georges, a senior pharmacist with the U.S. Public Health Service, who was born in Haiti. "I want to thank the world. Haiti thanks you, thanks you very much."
For more information on WHO's activities in Haiti, contact Olivia Lawe-Davies, mobile + 509 3483 3121, email: lawedavieso@who.int — www.who.int
For more information on PAHO, contact Daniel Epstein, mobile +1 202 316 5679, email: epsteind@paho.org, or Donna Eberwine-Villagran, tel. +1 202 974 3122, email: eberwind@paho.org,— www.paho.org
To contact the U.S. Government Joint Information Center in Haiti, email: HaitiJIC@USAID.gov
PAHO Disasters website
www.paho.org/disasters

WHO: Health Action in Crises, Haiti
http://www.who.int/hac/crises/hti/en/index.html

Donate to Haiti Earthquake Relief:
www.pahef.org/haiti

https://twitter.com/pahoeoc
https://www.youtube.com/pahopin
https://www.facebook.com/PAHOWHO
https://twitter.com/pahowho