São Paulo, May 13, 2023. The Course on Access and Use of Scientific Information in Health, as a product aligned with the BIREME/PAHO/WHO Biannual Work Plan, contemplating the activity related to Information Services, in cooperation with the Ministry of Health of Brazil, is available in open access in the Virtual Campus for Public Health since 2017, in Portuguese and Spanish versions, having certified more than 20 thousand participants until 2022.
The course is aimed at professionals, researchers, managers and students who search for information and scientific evidence in the main sources of information of the Virtual Health Library (VHL) and aims to develop technical skills to carry out an efficient search for scientific and technical information in health.
The main objectives of the course are: Identify the main sources of health information; Identify the types of studies available; Relate information to specific needs; Understand and apply health terminology; and Elaborate search expression using resources and syntax. The course, moreover, aims to inform health professionals who use scientific evidence to support research, practice, and decision-making in health, among others.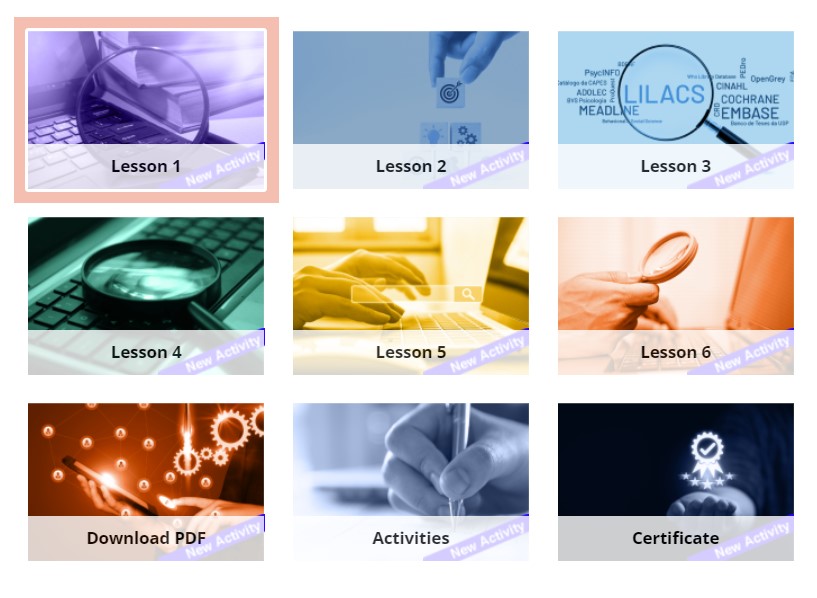 With the covid-19 pandemic, the capacity building and development actions offered by BIREME/PAHO/WHO have gained strength in the virtual modality, prioritizing the development, and updating of self-learning courses and open educational resources on VHL products and services. In this context, the course content was revised and updated, and versions in Portuguese, Spanish, English, and French were made available and published in January 2023. To date, the Virtual Campus for Public Health platform has registered more than 1,500 subscribers to this new version.
The content was developed in the self-learning mode, with 40 hours of workload. The modules can be accessed independently, and the certificate is generated by completing the fixation activities. Each module presents a complete, dynamic content, with varied audiovisual resources. The programmatic content, divided into six modules, goes through the following themes related to the search process:
Methodological Types of Studies
Information Need: Definition and Structuring
Information sources
DeCS – Health Science Descriptors
Construction of Search Expression
Advanced Search and Search Fields