San Juan, 15 May 2017 (PAHO/WHO) - In celebration of World Health Day 2017, PAHO/WHO Country Office in Puerto Rico organized an educational event open to health professionals, public servants, academics, students and the community at large to encourage dialogue under this year's theme "Depression let's talk". This activity was supported by the Department of Health, Mental Health and Addiction Services Administration (ASSMCA, for its acronym in Spanish); the Suicide Prevention Commission; and other institutions such as San Juan Capestrano Hospital, the Primary Health Association, APS HealthCare, the Psychology Association, Pharmacon, Costa Salud, and the Interamerican University.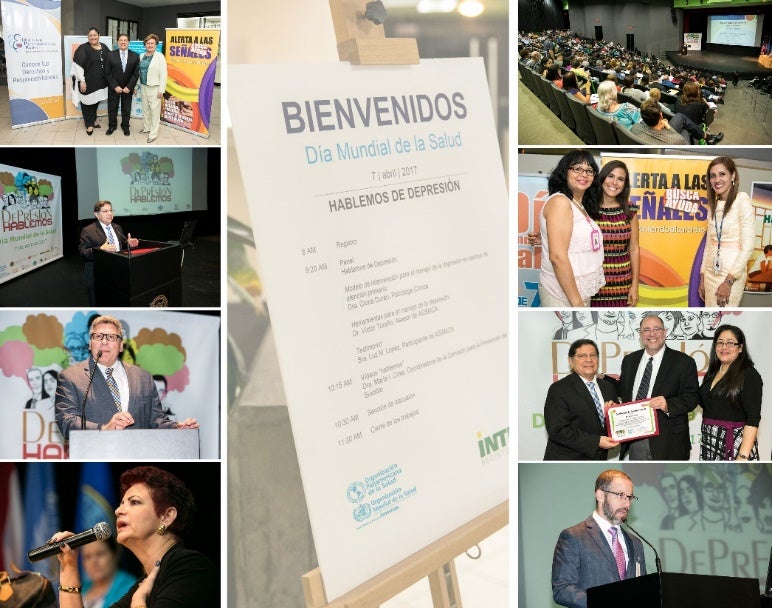 The day's agenda was divided into three areas: intervention model for the management of depression in primary care centers; tools for managing depression; and warning signs for suicide prevention.
More than 270 participants had the opportunity to listen to experts and to real testimonies. During subsequent presentations and discussions, emphasis was laid on the need to break with mental illness taboos and with the fear of people to talk about their condition openly.
"It is important that the effort carried out today continues in the next months. Not only does depression impact on the individual but on the whole family and its environment as well," emphasized the Undersecretary of Health, Dr. Concepción Quiñones de Longo, in her opening message. For his part, Mr. Juan Torres, ASSMCA's Treatment Assistant Administrator, said: "Depression is a condition that we can only overcome if we speak and seek professional help."