São Paulo, April 17, 2023. The Pan American Health Organization/World Health Organization (PAHO/WHO), through its Country Offices and Centers, including BIREME/PAHO/WHO, operates in the countries of the Region with technical cooperation programs and projects that formalize and operationalize the dissemination of information, sharing of experiences and ensure transparency and control of resource management with the presentation of technical and financial reports. The terms of cooperation (TC) are among the instruments most used by the Organization to consolidate this practice, in addition to Agreements and Contracts aligned with institutional policies and processes.
BIREME/PAHO/WHO continues to develop and improve products and services that help improve the quality of production, access and publication of information and scientific and technical evidence on health for all countries in the Latin American and Caribbean Region.
In coordination with PAHO/WHO Country Offices and counterparts, the Center develops projects to achieve health outcomes at the organizational, national, and international levels, through specific TCs or Agreements with different counterparts. With the government of Brazil, the main counterpart is the Ministry of Health[1], made possible through PAHO/WHO Brazil.
In the current 2022-2023 biennium, BIREME continues to cooperate with the following TCs established between PAHO/WHO Brazil and the Ministry of Health, as follows:
TC93/TA1-4 – Improvement of BIREME (annual contribution from Brazil's Ministry of Health)
TC 87/TA3 – Line of support for BIREME's Technical Cooperation in the development of information products and services for Brazil's National Health Foundation (FUNASA)
TC91/TA2 – Increased production, use and access to scientific evidence in decision-making and policy-making processes in the context of Brazil's Unified Health System (SUS).
TC95/TA2 – Improvement of the Management of the Executive Secretariat of Brazil's Ministry of Health – ECOS VHL – ES/MoH
TC 95/TA6-9 – Improvement of the Management of the Executive Secretariat of Brazil's Ministry of Health – Brazil VHL – ES/MoH
TC/98/TA1 – Creation of the Integrative Health Academic Consortium (PICS)
TC98/TA2 – Technical Cooperation between BIREME/PAHO/WHO and Brazil's Ministry of Health, through the General Coordination of Food and Nutrition (CGAN/DEPROS/SAPS), which will contribute to increase the visibility, access and use of scientific and technical information related to the Decade of Action for Nutrition (2016-2025).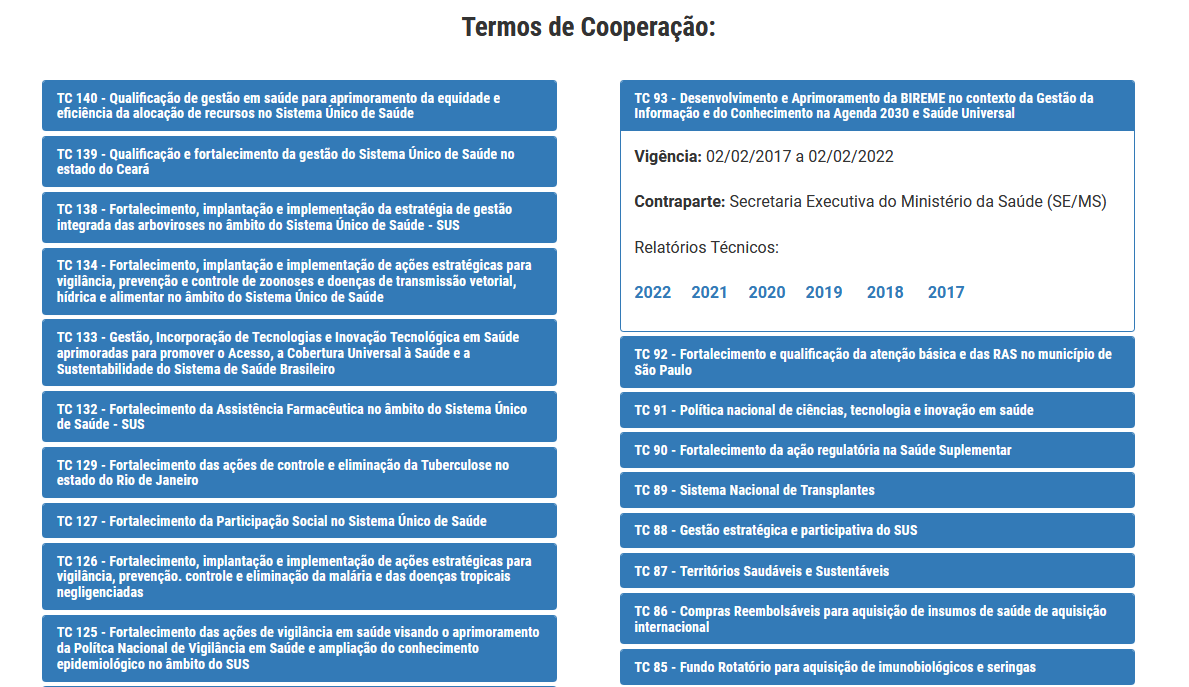 The development of products and services in the context of each TC is monitored by BIREME in fortnightly project management meetings coordinated by the Director of the Center with the technical and administration teams. The half-yearly reports are published by PAHO Brazil and are available for consultation by counterparts.
BIREME's 2023-2025 strategy aims to guide information products and services for action in health, with an emphasis on evidence for decision-making, with a main focus on four areas:
Strengthen the capacity of lay people and communities for health-related decision-making;
Reinforce professional decision-making capacity;
Support the development of evidence-based health policies; and
Support health research.
To achieve these objectives, the Center relies on several of the TCs under development and, in addition, on new sources of funds.
[1]The Ministry of Health is a permanent member of BIREME's Governance Committees, Advisory Committee and Scientific Committee, which provide recommendations for improving and strengthening BIREME's regional technical cooperation results, including those related to national priorities. Available from: https://www.paho.org/en/bireme/about-latin-american-and-caribbean-center-health-sciences-information