8 August 2022 (PAHO)- In 2022, LILACS, an information source for the Virtual Health Library (VHL), reached the mark of one million documents, which represents an achievement of real value, as it portrays competence, dedication, resilience, and the reality and challenges faced by the thousands of professionals who work in research and the dissemination of scientific evidence in health in Latin American and Caribbean countries.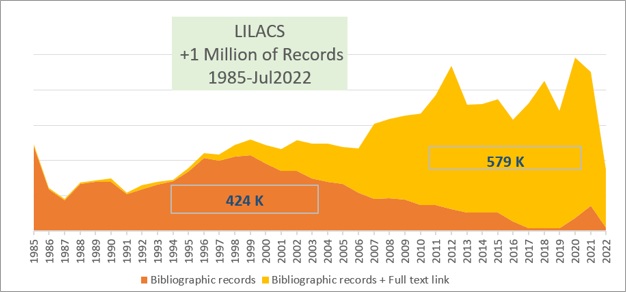 LILACS – Latin American and Caribbean Literature on Health Sciences – is a database managed with automated technological processes and local leaders (LILACS Coordinators) responsible for its management in their countries and curated by professionals from more than 800 health institutions, universities, and research centers (Cooperating Centers), editorial teams responsible for more than 800 journals and journal evaluation committees made up of experts in health science publishing.
The database also portrays the result of research and its application reflected in public health policies of millions of authors allocated in health and research institutions that produced more than 833,000 journal articles, more than 100,000 books and monographic series, more than 54,000 theses and dissertations and more than 13,000 government documents.
This output received more than 6 million page views in the first half of 2022 alone, and gave visibility and access to previously invisible documentation not understood in large global databases and in all areas of knowledge.
Currently, LILACS is used as an information source for systematic reviews, clinical practice guides, clinical trials, and other types of studies such as evidence maps, windows of knowledge, and formative second opinions. LILACS provides visibility to scientific and technical production published regionally and which is not indexed in international databases.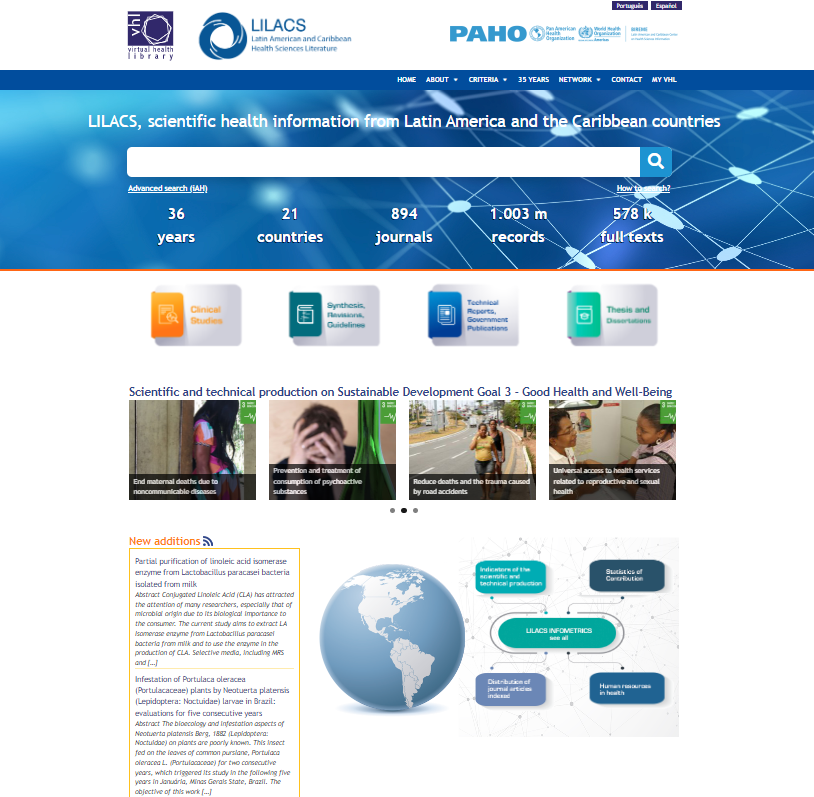 Another important characteristic in LA&C countries is the multilingualism and adoption of languages ​​other than English, which creates difficulties in accessing and absorbing technologies at the local level. Portuguese predominates the database, with more than 419 thousand documents, followed closely by Spanish, present in more than 417 thousand records, in addition to English, with 190 thousand publications and more than 550 in French, Italian and German.
The LILACS Methodology is used to guide the management of health information in institutions, which generates more than 90 databases published in VHL instances throughout the region. As for scientific journals in health, best practices for editorial processes and Open Science principles are widely disseminated to editorial teams of journals indexed or seeking indexation in LILACS, in order to disseminate practices that strengthen and develop the capacity to develop research and edit quality journals.
Considering the aspect of managing the cooperation network and continuing education program of the Latin American and Caribbean Network on Health Sciences Information, training and meetings are held monthly: Best Practices in the Editorial Process of LILACS Scientific Journals, Indexing of documents according to the LILACS Methodology, Methodological types of study according to the LILACS methodology and VHL search filters, Training on VHL Information Sources, and finally, LILACS and VHL coordination meetings. These initiatives generated 28 virtual sessions that reached more than 2,300 participants from more than 20 LA&C countries.
Finally, the registration of one million documents in LILACS is relevant and important for the access and visibility of research in the region, used by students, researchers, health professionals, and professionals involved with public health management at the municipal, state, national and regional levels and makes them protagonists, agents of local transformation that impact the health and well-being of the population.