23 January 2023 — On December 15th and 16th, 2022, a meeting was held on the 2022 results of TA6 and TA9 on the Term of Cooperation 95, between PAHO/WHO Brazil, via BIREME, and Brazil's Ministry of Health. In addition, the current year's TA4/TC93 results were also shared. The meeting was coordinated by the Director of BIREME, João Paulo Souza, who was supported by the BIREME team and the General Coordinator of Documentation and Information (CGDI in its Portuguese acronym), Shirlei Rodrigues, and Sandra Cristina Teixeira, responsible for the Dissemination of Technical-Scientific Information in Health, both linked to the Secretariat of Administrative Affairs of the Executive Secretariat of the Ministry of Health of Brazil (SAA/SE/MS).
João Paulo Souza opened the meeting, welcoming the participants and highlighting the results obtained by the technical teams, which are detailed in a technical report. Next, Shirlei Rodrigues mentioned the longstanding cooperation with BIREME, which makes it possible to disseminate the scientific and technical information conveyed through the Virtual Health Library (VHL), LILACS, and especially the BiblioSUS Network to health professionals, researchers , students, and society in general.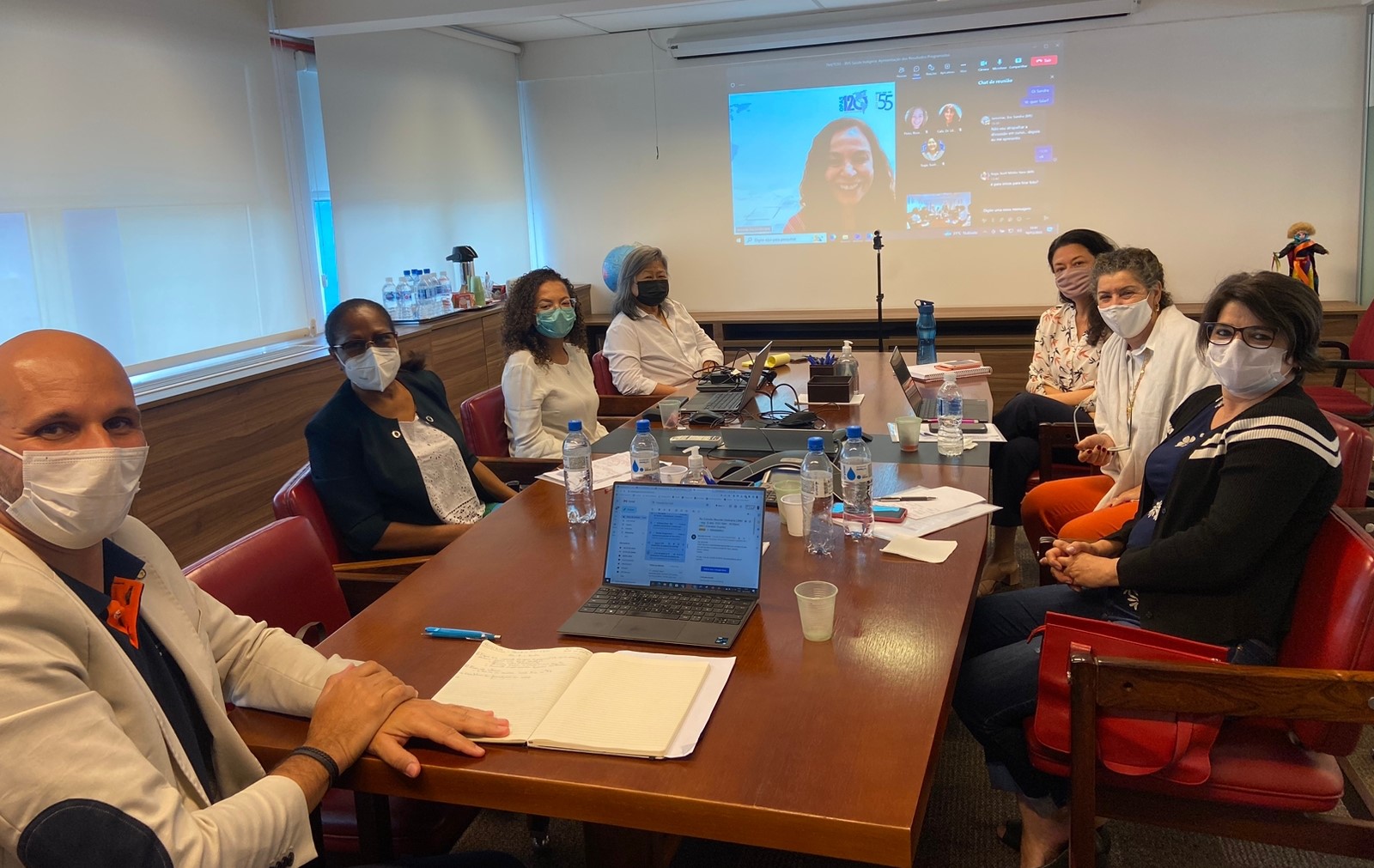 Then, according to the agenda, presentations were made by the technical and administrative areas on the results of 2022, which refer to the two macro activities of this Term of Cooperation: (1) Promote the use of open access information and technical scientific evidence within the scope of Brazil's Unified Health System (SUS), and (2) Strengthen the management and dissemination of the Virtual Health Library(VHL) in Brazil, with emphasis on the second half of the year, which are detailed in the report to be sent to CGDI.
On the second day of the meeting, the results of the first year of TA4/TC93 were presented, which refer to the development of the VHL Indigenous Health. On the occasion, BIREME's consultant for this topic, Robson Santos da Silva and the SESAI/MS specialist, Emmanuel Bohrer Júnior, joined the meeting virtually. The BIREME team reported on the progress of the project after the technical visit to indigenous villages and to the central coordination of the Special District for Indigenous Health (DSEI) in Cuiabá, in the state of Mato Grosso, last August. One of the results of this visit was the identification of the health conditions that most affect indigenous populations and obtaining information on the effectiveness of communication and information materials within the communities.
At the end of the meeting, the teams from BIREME and CGDI, under the coordination of João Paulo Souza, had the opportunity to discuss the work prospects and priorities of the Terms of Cooperation for 2023, which will be formalized in the Annual Work Plan of TA9/ TC95 and TA4/TC93.