The PAHO/WHO Knowledge Management (KM) area is part of the Department of Evidence and Intelligence for Action in Health (EIH), which also includes BIREME. Among its workstreams is the Digital Literacy activity, which promotes periodic training for staff in PAHO/WHO Offices and Centers in the context of the Research4Life Program (HINARI). The program provides institutions in low-income countries with online access to academic and professional content with the aim of improving teaching, research, and policy-making in these countries in the areas of health, agriculture, the environment, and other physical, life, and social sciences.
Annually, by invitation from the Regional Advisor of the KM team, Eliane Pereira dos Santos, BIREME designs the calendar of training activities. In the 2022 edition, BIREME's contribution took place on November 3rd in a webinar in Spanish, with simultaneous interpretation into English and open to the general public with the theme "Scientific Literature in the Americas: getting to know the LILACS database, characteristics and research". This session had 154 participants from 30 countries. As panelists, Rosemeire Rocha Pinto, Librarian, Supervisory of Customer Service and Training and Sueli Mitiko Yano Suga, Referential Information Sources Supervisor, participated, in addition to moderators and translators.
The webinar addressed the theme "Literatura científica en las Américas: conociendo la base de datos LILACS" (Scientific Literature in the Americas: getting to know the LILACS database), and was divided into two parts. The first explained LILACS's mission, which promotes visibility and access to research results and publication aligned with editorial best practices in health and the principles of Open Science. It also highlighted the added value of the LILACS Methodology and the fundamental role of the network in coordinating local actions of identification, selection and representation of documents, which allows for the inclusion of gray literature and local production not available in other databases.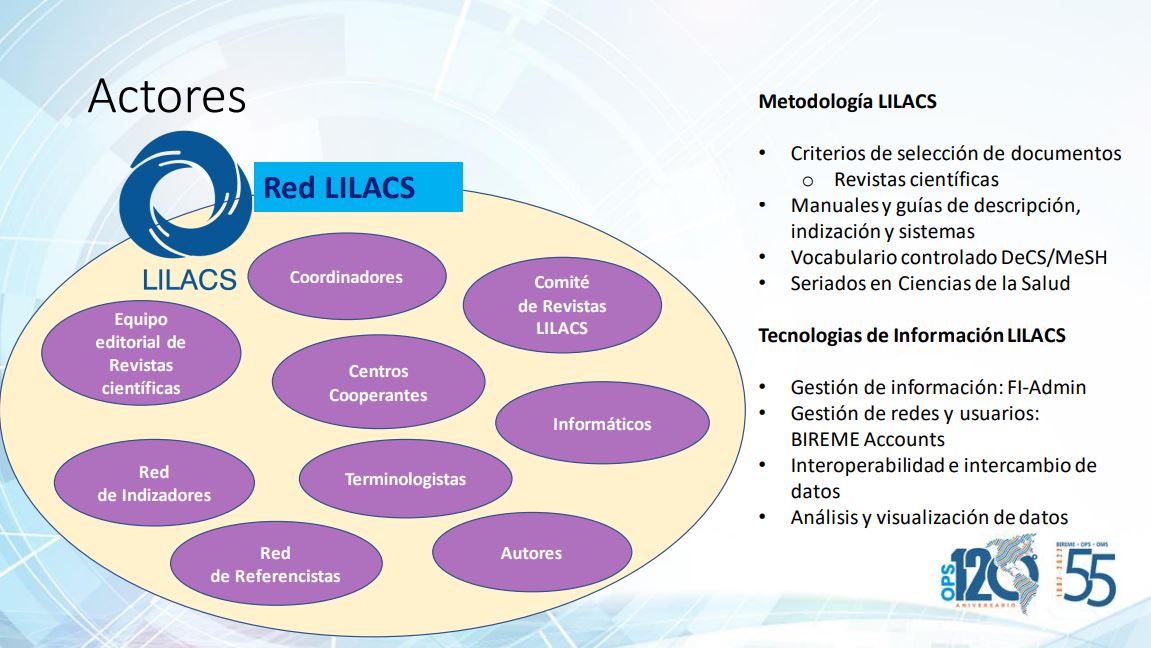 In the second part, Metodología de búsqueda y documentación de la información (Methodology for searching for and documenting information), the search and retrieval of documents in the LILACS database was explained with the use of advanced filters, creation of search strategies and the PICO method (acronym for Patient/Population; Intervention; Control Intervention; and Outcome).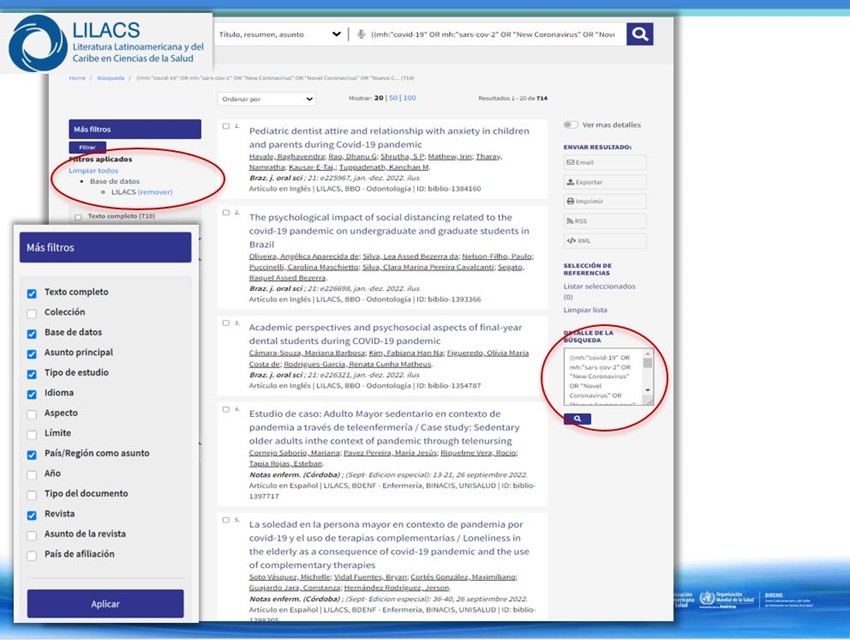 These webinars are part of Research4Life's first Spanish-language online course on electronic health resources, a joint initiative of the World Health Organization (WHO), Pan American Health Organization (PAHO), Information Training and Outreach Center for Africa (ITOCA), and Librarians Without Borders.